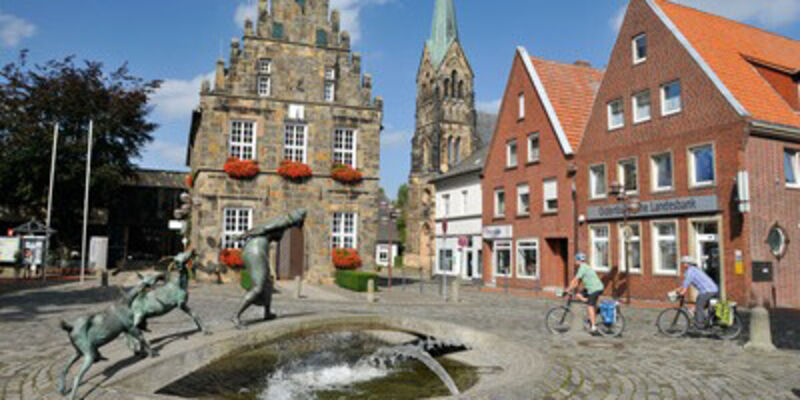 JUST 181 KM FROM HANNOVER
Grafschaft Bentheim
A peaceful county with bags of appeal
Situated by the Dutch border in western Lower Saxony is Grafschaft Bentheim. The westernmost cultivated landscape in the state is characterised by the moor and heath regions surrounding the county town of Nordhorn. Thanks to its position at the intersection of the A30 and A31 Autobahns, the county offers quick access to the A2 and thus to Hannover 181 km away. It's around three hours by car, or for those who prefer to let someone else do the driving, 3.75 hours by train via the east-west route. The wonderful location is peppered with tourist attractions, such as the listed wind and water mills found on the mill tour or the Nordhorn Animal Park. Grafschaft Bentheim even has lots to offer for art and culture enthusiasts. There's something here to suit every preference, with attractions like the ancient Bronze Age farm in Uelsen as well as many museums across the region, such as the Wietmarschen Abbey Museum, Nordhorn Town Museum and the Sandstone Museum in Bad Bentheim.
Western Lower Saxony, where a bike is a "Fietse"
Grafschaft Bentheim's signposted network of bike paths covers over 1,200 km, and passes Bentheim Castle, which dates back to the 11th century. The slightly hilly Grafschafter Fietsentour route network consists of a 220 km main route plus 25 day tours covering 28 - 56 km. There are also three long-distance routes that cut across the border with the Netherlands: the Kunstwegen and Vechtetal routes as well as the United Countries Tour meander alongside the region's canals and rivers. Its certification as a "Bike-friendly Municipality" in 2007 and 2011 make it clear how much the satisfaction of cycle tourists is valued.
It is also clear how important this kind of tourism is to the whole GEO region (Grafschaft Bentheim, Emsland und Osnabrück), considering that it's home to hundreds of award-winning guesthouses plus many cyclist shelters and bike hire shops. This gives cyclists the chance to marvel at the numerous cultural institutions, such as the open-air theatre in Bad Bentheim and the 132 km-long "Kunstwegen" sculpture trail, a route containing over 60 works of art which is also considered Europe's largest open-air museum. The sculptures are outdoors under open skies and can be enjoyed by anyone at any time, even while passing by on a bike. On top of this, anyone struggling to muster the energy for the ride back after a long day's cycling can make use of the Fietsenbus, a flexible, specially designated bus service for cyclists and their bikes. In true North German spirit, everyone reaches their destination in this region.