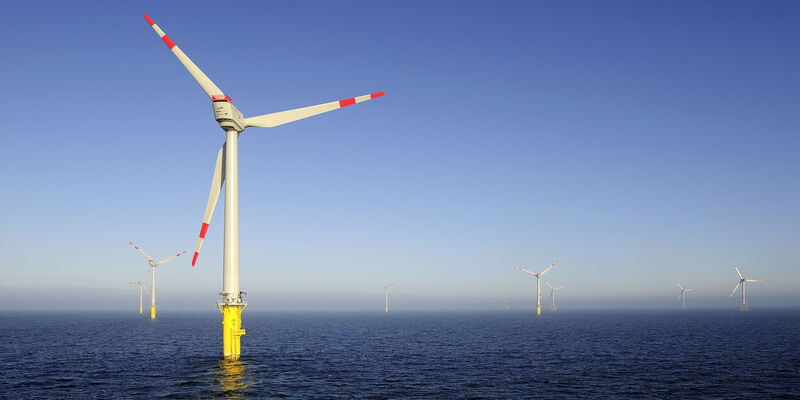 A LIVEWIRE AT MAXIMUM OUTPUT
The energy industry
Winds of change - renewable energy from the North
Protecting the environment is the hot topic of our time. In the face of global warming, the state of Lower Saxony has dedicated itself to the development of renewable energies, pouring €15.1 million into research in 2010. The core focus of this research is the harnessing of energy from wind power, an area in which Lower Saxony is something of a pioneer, with some 5,783 wind turbines making up around a fifth of all those in North Germany. The state's position by the North Sea of course plays a crucial role in its generating capacity of some 8,957 megawatts.
With around 41 offshore wind farms up and running or in planning, such as Nordergründe, which opened in 2017, or alphaventus, which became Germany's first ever upon its commissioning in 2010, it's clear that Lower Saxony is in top gear when it comes to wind energy. However, it's not just out at sea where the turbine rotors are spinning.
One of Europe's largest wind farms is Windpark Holtriem, which opened in 1998 and is now home to 89 turbines. But it's not the sheer number of turbines that makes Holtriem special - it's the fact that one of them is fitted with a viewing platform. Anyone looking for a far-reaching view over the East Frisian lowlands and its wind turbines can do so by driving around three hours from Hannover and climbing 60 metres via the 297 steps.
But where on Earth do these giants come from? From Lower Saxony, of course. Various leading manufacturers of wind turbines have chosen to base their production facilities here in the North, for example Enercon in Aurich and Emden with optimal access to the North Sea, and GE Wind Energy in Salzbergen, located 157 km from Hannover in Grafschaft Bentheim. Lower Saxony's wind power industry doesn't just provide people with energy, it's also a source of employment.
Even more power for Lower Saxony
Where else does German energy come from? Lower Saxony has the highest availability of natural gas in Germany, with a total of 95% of Germany's natural gas coming from its northwesternmost state, while it continues to supply 40% of the country's petroleum. However the North isn't just delivering when it comes to fossil fuels - Lower Saxony is also Germany's leading producer of biogas with 4,190 million kWh.
Lower Saxony is also still home to nuclear power stations with two locations in Emsland and Grohnde continuing to provide an uninterrupted flow of electricity. Although no longer an energy-producing powerhouse, the Romkerhalle hydroelectric power station is a sight worth seeing. Lying in a valley near Schulenburg in the Harz mountains, it's supplied by the meandering Okertalsee. The backwater creates an environmental haven and is a paradise for hikers and boaters alike. An electrifying place - one of a countless many in Lower Saxony.
more information you find at: