Not far from Hannover...
Christmas Markets in Lower Saxony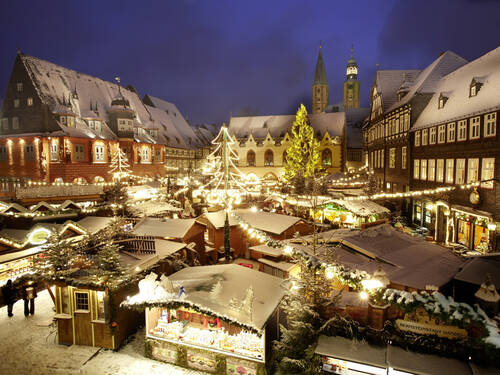 The Christmas Markets in the 9 cities are a very special tip among those who love Christmas Markets with traditional romantic atmosphere. The Markets sparkle in front of charming historic backdrops. Among idyllic half-timbered houses, gothic gable brick and magnificent baroque facades, you will be tempted by the aroma of mulled wine and gingerbread in wonderful historic squares. Special tip: The Autostadt in Wolfsburg is transformed in a winter wonderland in the pre-Christmas period.
10 Christmas Markets, 10 Christmas Highlights:
Set in the enchanting historic town market, the Christmas market in Wolfenbüttel has become over the last years a special tip among those who love Christmas markets with a romantic atmosphere. Every year roof gables aglow with lights sourding the charming Christmas markets in Lüneburg. The historic market square: this is where the heart of the Christmas market in Hildesheim beats. Here, the magnificent façades of the half-timbered houses and the smell of freshly baked gingerbread and mulled wine create a very special pre-Christmas atmosphere.
Hannover's three Christmas markets can be relied on to put the entire town in a festive mood. The city shows its traditional side at the Christmas market in the old town. Christmas Market in front of Hannover main station until the end of December. Hameln's Christmas market is considered to be one of the finest in northern Germany. More than 80 festively decorated stalls around the old town hall and the St. Johannis Church spreading the prechristmas atmosphere.
Find pleasure in the season of contemplation at the Christmas Market & Christmas Forest of the dream-like scenery of the old city centre in Goslar. Pyramid, small forest with arts-andcraft stalls in front of the town church in Celle: Trombone choir, "speaking lanterns" and the bright christmas lights in the old town with more than 450 half-timbered houses delighting everybodys heart. In front of the magnificent historic background of the old quarter around the St. Blasii Cathedral, around 150 artisans, crafts people and market vendors invite you to Braunschweig's Christmas market. Furthermore the Autostadt Wolfsburg will be transformed into a fairy tale world made of ice, snow and glittering lights.
Further information: www.9cities.de/christmasmarkets