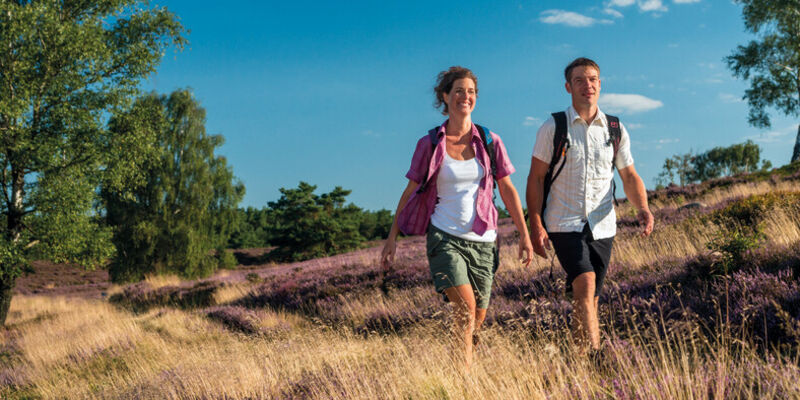 JUST 88 KM FROM HANNOVER
Lüneburg Heath
Lower Saxony's heath – a 5000-year-old cultural landscape
As a rural region, the heath still plays a significant role in agriculture and is known for producing high-quality foods such as potatoes and honey as well as the environmentally sound management of the local Heidschnucke sheep by shepherds. The area also enjoys widespread popularity among tourists. With no shortage of bike, bridal and foot paths, the heath is a well-frequented local recreation area. The Lüneburg Heath Natural Park is also Lower Saxony's oldest cultivated landscape and provides a place to relax and enjoy the vast landscape, for locals and visitors alike.
Just 88 km from Hannover, the mere sight of the purple blooming heather lures droves of tourists to the heath every August, when the violet flowers drape the otherwise barren landscape in a beautiful play of colour. This event is marked at the Heath Flower Festival in Schneeverdingen, a celebration that is famous well beyond the local area. The unique landscape can be reached quickly thanks to its direct connection to the A7. The heather lures every visitor into its midst, whether on a carriage ride or on foot.
The heath nature reserve – where humans and animals are at one
A history of arable farming, animal husbandry and forestry in the northwest German lowlands gave rise to open spaces which today provide ideal conditions for nature protection. What makes this area special is that, beyond being Lower Saxony's oldest and largest nature reserve, it's also unique in all of Germany.
This is why Lüneburg Heath has become such an important area, in which plants and animals on the red list of threatened species have been able to thrive over a period of decades. As Central Europe's largest contiguous area of heather, it became the habitat for the threatened black grouse, the adder and various species of swallow. Even wolves returned to the region some time ago.
Wandering through the purple sea of heather in the natural park beyond the hiking and cycle paths, it's also possible to encounter herds of Heidschnucke sheep and their shepherds. This species of sheep has become highly coveted due to its meat, whose gamey flavour has whet appetites all over Europe. The nature of Lüneburg Heath appeals to all tastes!
Lüneburg and Celle
Not far from Hannover and easily accessible by train or car lies Lüneburg, the medieval Hanseatic city after which the heath is named. The magnificent patrician houses with their brick gables and the medieval town hall on the market square are fascinating attractions for visitors.
The town of Celle, with its rich cultural heritage, is embedded in the original cultivated landscape of Lüneburg Heath. Visitors enjoy the over 450 lovingly restored half-timbered houses in the old quarter of what is considered one of the most important and beautiful residential towns in Lower Saxony. The Residence Museum in Celle Palace recounts the histories of the Hanoverian dukes.
More information you find at: