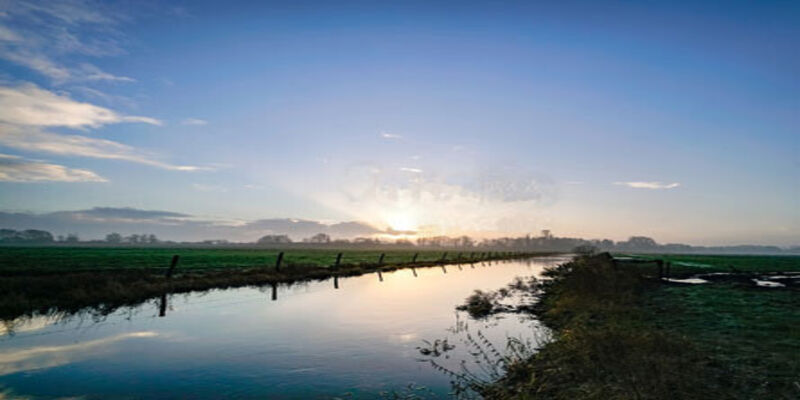 JUST 108 KM FROM HANNOVER
Oldenburger Münsterland
One recreational area, two counties and lots of water
With a wide range of facilities and institutions, Oldenburger Münsterland has plenty to offer tourists and provides an exciting insight into the region between the Thülsfelder Talsperre dam and Dümmer Lake. The Cloppenburg Museum Village, one of the many tourist magnets in the region, is Germany's oldest outdoor museum and attracts around 200,000 visitors every year. The education and research institution fascinates visitors, granting them a glimpse into the culture and landscape of the past with historic buildings. With just 108 km separating the Lower Saxon state capital from the Vechta and Oldenburg counties, the experiences which await in this river landscape and educational region are just a stone's throw away. Water and the biodiversity that comes with it play a predominant role in the counties' tourism. The people of Südoldenburg make visitors feel right at home with their wonderfully down-to-earth, enthusiastic manner and are always happy to give an insight into the local customs and everyday life. With its proximity to Hannover and good transport connections via the A1 (Hansalinie), B69 and B214, Oldenburger Münsterland is never too far away to be enjoyed. Whether discovering it by bike, canoe, horse, car or camper van – an outing to Südoldenburg is well worth the two-hour journey and never lacks variety.
Oldenburger Münsterland - defined by water
In the far north of Oldenburger Münsterland lies the territory of Barßel-Saterland, which is known as a haven for fishing and watersports. Its tranquil landscape of rivers and lakes is a major allure for tourists and boating enthusiasts. Meandering through idyllic Barßel on an extensive canoe tour or a raft trip is a great way to discover the region from a fresh perspective. Water lovers of all ages can enjoy the many indoor and outdoor swimming pools and water parks, such as Soestebad Cloppenburg and aquaferrum Friesoythe. Those who prefer to sail can head to Dümmer Lake, which covers an area of 18 km2. Whether floating down the Hase Valley, swimming in the local bathing lakes or visiting the Thülsfelder Talsperre, Oldenburger Münsterland is the perfect place for those looking to immerse themselves in the maritime atmosphere of North Germany.