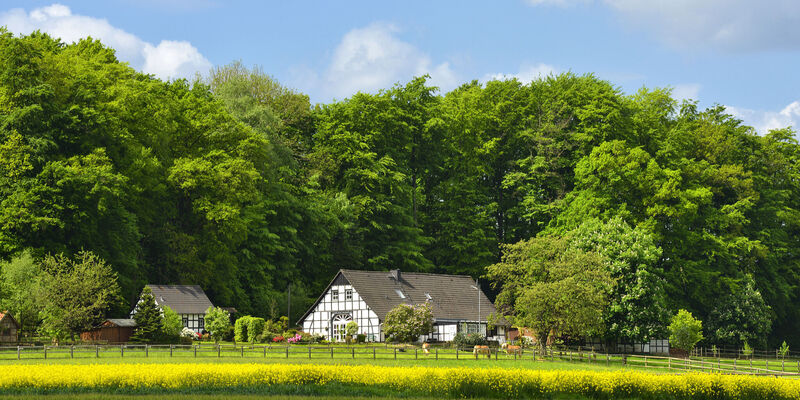 JUST 112 KM FROM HANNOVER
The Osnabrück Region
A most varied holiday destination
Between Oldenburger Münsterland and the border with North Rhine-Westphalia is the Osnabrück region with the independent city of Osnabrück. The landscape is characterised by the hilly scenery of Teutoburg Forest as well as the Wiehen and Ankum Hills. A particularly impressive feature in the region is the TERRA.vita Nature Park, which provides visitors with a unique glimpse into the age of dinosaurs among layers of displaced rock.
This outstanding nature experience in the Lower Saxon lowlands is just two hours' drive from Hannover via the A2 and A30. Ideal for nature lovers, active holidays and city breaks, the area offers a diverse range of tourist attractions, cycle paths and footpaths, wellness facilities and regional specialties. Oldenburger Münsterland has something to amaze anyone interested in culture, history or individual tours thanks to around 3,000 km of cycle paths and footpaths as well as 300 million years of geological history.
A journey through time at TERRA.vita Nature and Geopark
300 million years in an area of 1,500 km2 - a superb view with spectacular insights into the Earth's history. TERRA.vita Nature Park is one of the only landscape areas in Germany to have been awarded UNESCO Global Geopark status, where visitors can experience hundreds of natural monuments, geological phenomena and rare flora and fauna.
The dinosaur tracks near Bad Essen are an absolute "must see". Those looking to explore the region north of Teutoburg Forest and the Wiehen Hills can take advantage of the abundant cycle paths and footpaths, such as the Hermannsweg and the Wittekindsweg. The Megalithic Culture route allows hobby geologists to view traces of the times before the Ice Age, while the park's highest peaks can also be traversed on foot via the Ahornweg and DiVa-Walk routes, passing rock formations, quarries and forest on the way. These are just some of the many ways to explore the rich cultural landscape and marvellous scenery at a whim.