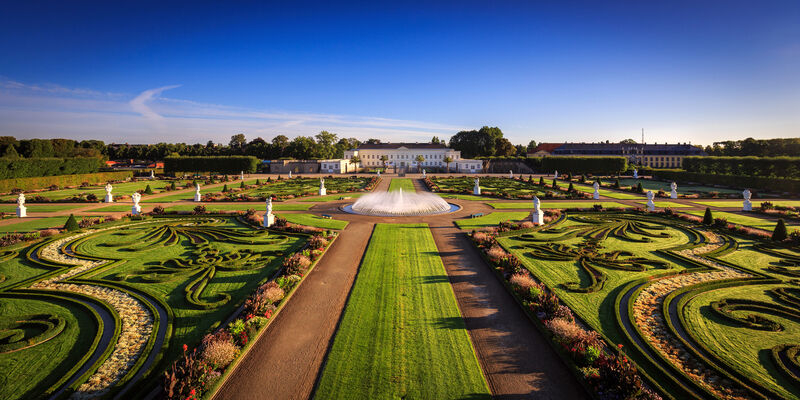 HOLIDAYS IN LOWER SAXONY - POPULAR DESTINATIONS FROM THE HARZ TO THE SEA
Tourism
Learn more about tourism
When people think of Lower Saxony, they think of the seemingly endless expanses of the Wattenmeer national park and the highest peak, the Brocken, situated in the south-west. However there are many other places in North Germany which are well worth a visit: the enchanting Lüneburg Heath, famous for its violet blossom, is a favourite among hikers, while the East Frisian region is an attractive destination for health holidays thanks to its mild climate. Cyclists need look no further than the GEO region, with an extensive network of routes which provide an ideal basis for getting to know the region and its people, and the Weserbergland, with a hilly landscape that makes it a popular bike tour destination. The regions surrounding Lower Saxony's urban areas also attract large numbers of tourists: Wolfsburg possesses a trump card in the Autostadt and its VW factory, Braunschweig captivates cultural enthusiasts with its Guelph and Hanseatic history and the state capital of Hannover hosts an array of attractions such as its prestigious zoo and the Herrenhausen Gardens, complemented by a variety of cultural centres and festivals as well as various architectural tourist sights.
Based in Hannover, TUI AG is a global leader in the tourist industry. However, it doesn't just focus on well-known foreign destinations, it also caters to those interested in local destinations, whether it be the islands in the North Sea, the East Frisian mainland or just Lower Saxony in general. No matter where you want to go, you'll have no trouble finding suitable accommodation, be it a hotel, holiday home, campsite, B&B or something else. Lower Saxony has a diverse hospitality industry and is made great by the 183,751 people who work in the sector, looking after guests and locals alike. It's not just the 20,252 businesses making up the industry that account for the feel-good factor, but profits too, with Lower Saxony's revenue now exceeding €6 billion.
Certifications and seals such as "ServiceQualität Deutschland", "KinderFerienLand", "Reisen für alle" and Dehoga's "G Classification" foster trust on both sides and boost market acceptance. As a result, Lower Saxony is among the top 5 most popular states in Germany with over 43 million overnight stays per year. The accessibility provided by the A1, A2, A7 and A27-31 Autobahns ensures stress-free transit and connections to your chosen destination. It's possible to drive from north to south or east to west in around four to five hours. For those who prefer not to drive, the vast range of bus, coach and rail services ferry visitors to wherever they would like to go, and with such easy connections, one can just sit back and enjoy the idyllic scenery rolling by. These include coach services from Euroline and FlixBus as well as smaller regional lines, not to mention Deutsche Bahn's services, such as the ICE, IC and IC Bus. The well-developed transport infrastructure makes it simple and easy to reach every corner of the region. Visitors can relax before their holiday has even begun.
Hannover - the trade fair epicentre
Big region - small journeys. With a land mass of 47,600 km2, Lower Saxony is the second-largest federal state in Germany, providing a world of possibilities for its 40 million annual visitors. Its high-quality infrastructure enables quick, easy access for visitors from within Germany and also further afield thanks to rail and air travel options. Be it HANNOVER MESSE, IAA Nutzfahrzeuge, Infa, EuroTier, EuroBLECH, Ligna, DOMOTEX or AGRITECHNICA, the trade fair city of Hannover represents a strong partner and host for exhibitions from and for the whole world. Thinking back to Expo2000, Hannover's first world trade fair, or Barack Obama's visit to the 2016 trade fair, the state capital's global significance becomes clear.
Local trade fairs also play an important role in the Lower Saxon economy: some of these are among the biggest of their kind in the world and as such attract visitors and exhibitors alike to Hannover. However, the participants bring more than just excitement and knowledge - they also bring revenue for the hospitality industry as well as boosting the economy of Northern Germany and the Hannover metropolitan area.
more information you find at: