Hannover - centrally located in Lower Saxony
Hannover in your language
Hannover Messe
9 cities +2 in Lower Saxony
Hotels & Rooms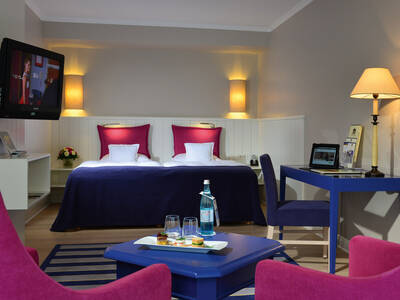 Hannover - centrally located in Lower Saxony
The Hannover economic region benefits hugely from its central location within the European transport network. With the A2 and A7 Autobahns, the main north-south and east-west road links intersect here. Deutsche Bahn's high-speed ICE train network provides a direct connection to all of Germany's main cities.
Hannover's central bus and coach station (ZOB) is one of the most modern in Germany. Buses and coaches from all the main intercity routes and major tour operators stop here. All major European holiday destinations can be reached directly from Hannover Airport. The Mittelland Canal, Germany's longest man-made waterway, connects Hannover to the continent's biggest sea and inland ports.
Hannover's public transport association, the Großraum Verkehr Hannover (GVH), carries over 200 million passengers every year. With its bus and tram network, üstra is the main mobility service provider for GVH. GVH's route network offers maximum convenience – even for passengers with restricted mobility – and optimally coordinated connections throughout the region.